Aviation Major Earns Second NAFA Scholarship Award
Vitaliy Matsko is soaring in his Aviation studies at York College, CUNY. The lower senior recently received his second aviation-related scholarship in as many years. This one he will save toward graduate studies in the field.
The National Aircraft Finance Association (NAFA) scholarship is designated to sponsor students who seek a career in corporate aviation and specifically, within the corporate aircraft finance sector. This is a highly competitive, national scholarship for ambitious
students. Over the last several years, many other York Aviation majors have secured these industry-specific awards. They are putting York's program on the map and the college is proud of them all.
"We had the first scholarship awardee in 2012 and I am glad that Vitaliy won this scholarship this year to keep York College's name on NAFA's record," said Dr. Chris Hsu, director of the CUNY Aviation Institute at York College and Matsko's mentor.
A child immigrant from Ukraine, Matsko, a first-generation college student for his family, received the Joseph Frasca Excellence in Aviation Scholarship. It is sponsored by the Frasca family in support of students pursuing careers in the field of aviation. The University Aviation Association (UAA), of which York is a member institution, is the largest organization that represents collegiate aviation for more than 200 universities worldwide offering aviation management degrees. Each year, UAA selects one man and one woman from its member universities to receive the prize.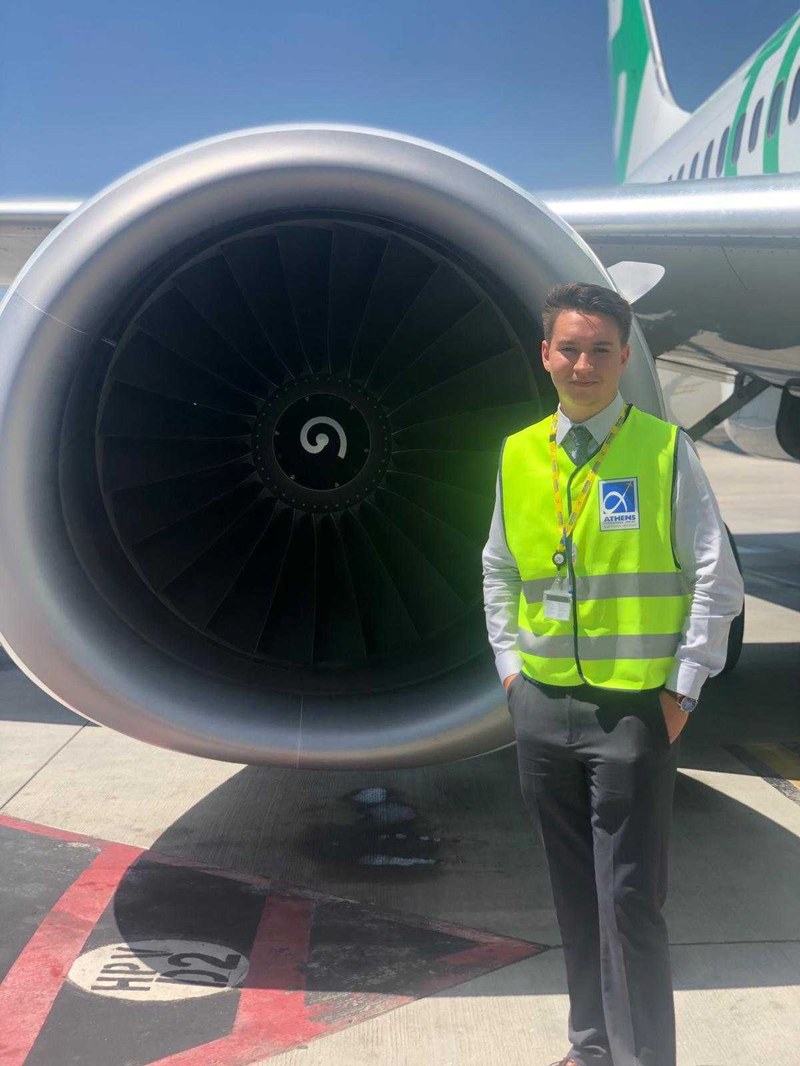 The scholarships that I have been awarded so far make me feel accomplished and grateful both towards the York College community as well as my mentor, Dr. Hsu," said Matsko. "My interest in the aviation career came to me during my high school years. Since I went to Aviation High School, I was quickly exposed to the vast world of Aviation, which not only intrigued me; but made me want to be a part of the worldwide community."
While at Aviation High School in Queens, Matsko obtained both his Airframe and Powerplant licenses during that time. He then "set my eyes on the Aviation Institute at York College since York College is the only CUNY college that offers a Bachelor's program in Aviation Management," he observed.
Matsko said his high school years were eye-opening.
"After finishing Aviation High School, and obtaining both my Airframe and Powerplant licenses and coming to York, I was introduced to Dr. Hsu in my Freshman year of college. Dr. Hsu has been guiding me through my journey and opened the doors to various opportunities both present and future, for me.
The aviation scholar added that his mentor not only introduced him "to like-minded individuals," but also taught him the importance of cooperation and integrity within the world of aviation. "With a smile on my face, I am proud to say that Dr. Hsu has taught me much about Aviation and I am more than grateful to have him in guiding me on my journey," said Matsko.
Dr. Hsu is also pleased with his student's hard work and good fortune.
"I am excited that Vitaliy won this scholarship in this international competition," said Hsu. "This is an incredible achievement. This honor not only demonstrates Vitaliy's exceptional academic performance but also indicates that although our Aviation Management program is young and small, as long as our students have determination, they can out beat students from other schools."