Ex-YSG Pres Shares Family Story after 4th Sibling Graduates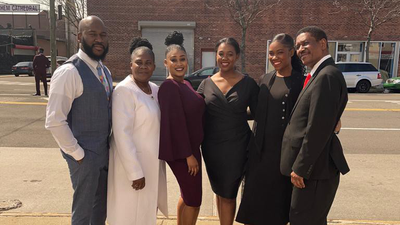 Rachelle Antione, a member of York's Class of 2017, recently shared her family's immigrant story following the 2021 graduation of her youngest sibling from York College.
As president of York's Student Government, Ms. Antione left an indelible mark on the CUNY College. But she wasn't the only member of her family to have received an undergraduate degree from York. All four siblings are York alumni.
A York Social Work major, Rachelle, who is the third Antoine offspring, understood the power of her position as Student Government president. She used it wisely in the service of her fellow students and the college. She was also one of nearly 30 students who accompanied then-distinguished lecturer, Dr. Ron Daniels to Selma, Alabama in 2015 to commemorate the 50th anniversary of Bloody Sunday.
It was a transformative experience for all the students. They met numerous now-elderly Civil Rights "foot soldiers," who had participated in the march across the Edmund Pettus Bridge in 1965. Their sacrifices culminated in the Voting Rights Act of 1965.
Among those they met on the trip in 2015, was the now-late Congressman John Lewis, then chairman of the Student Nonviolent Coordinating Committee. He was one of the organizers of the '65 march and among those severely beaten by police as the crowd of Civil Rights marchers, under Dr. King's leadership attempted to cross the Pettus Bridge in the fight for voting rights.
Following the 2015 sojourn, Antoine came back to campus determined to be a change agent for her college and community. After graduating from York, she earned her MSW at Columbia University and launched her career in the district office of Assemblyman Clyde Vanel, as a community liaison, later promoted to budget director for his district office. 
The go-getter currently works with the Port Authority of New York and New Jersey as a senior community outreach specialist, serving as the primary point of contact for public outreach and community engagement for the JFK Airport Redevelopment Program. She also operates the Project Outreach Office located in downtown, Jamaica.
"I'm excited to be part of this project for multiple reasons," she says. "It allows me to continue to work with our local elected officials, community boards, clergy, civic and business leaders to improve outreach to the local community around the Redevelopment Program. It also provides me with the opportunity to work with local schools, colleges, especially York College – my alma mater."
Antoine says that as "a generalist social worker," this project "opens the door for me to continue to expand the field of social work by empowering social workers to bring their skills to different areas of practice such as infrastructure and aviation." 
 "Lastly," she says, "It allows me to continue advocating for the community and ensuring that they are up to date on information and resources around this $13 billion project to modernize JFK airport," says Antoine. "As social workers, we always want to ensure that our clients or the community we serve have access to local resources – one of the best ways to do so is to disseminate information effectively."
She also plans to attend law school as part of her five-year plan and has detailed her family's immigrant story in a must-read online posting titled From Haiti to the Us - Four Cuny York College Graduates.