Performance Opportunities
York College provides a variety of opportunities for students to make music together, including the York College Big Band, and the York College Gospel Choir, and the student-run York College Music Club.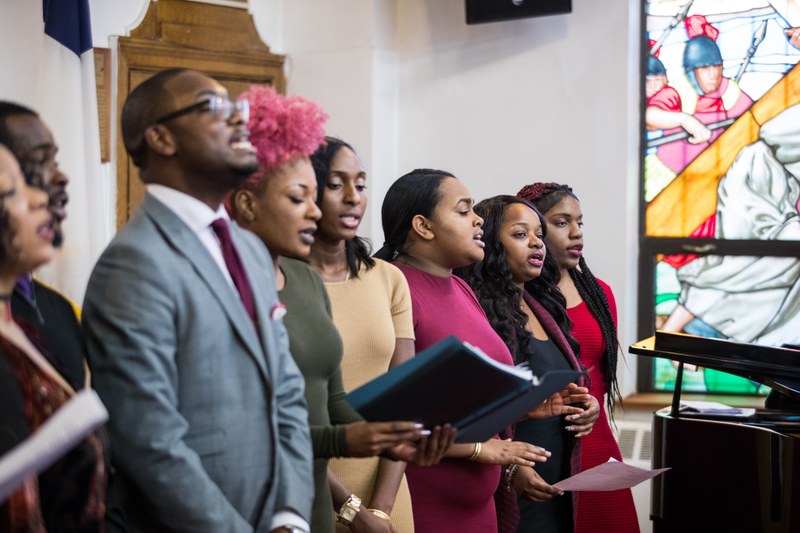 York College Gospel Choir in performance, Fall 2017.
Big Band
Founded in 2007, the York College Big Band explores large ensemble repertoire including classic big band literature, Latin music, funk tunes and more.  In addition to performances on campus, the York College Big Band has performed at LaGuardia Performing Arts Center, Medgar Evers College, the Poppenhusen Institute, Queens College, and annually at the CUNY Jazz Festival at City College. In April of 2006, the York College Big Band was featured in Weltreisen on the German television station ARD, and in the fall of 2013, the band performed at American Federation of Musicians / Local 802 alongside celebrated drummer Bernard "Pretty" Purdie and harmonica player Rob Paparozzi.
The YCBB rehearses on Wednesdays from 6pm to 9:30pm.  For more information or to schedule an audition, please contact YCBB director Dr. Tom Zlabinger.
Gospel Choir
The York College Gospel Chorus, directed by Jonathan Quash, is a performing ensemble that covers a variety of genres.  While the Gospel Chorus's foundation is the sacred music of the African American experience, the ensemble also performs other genres such as jazz and popular music.  The Gospel Chorus performs throughout the academic year both on and off campus.
Music Club
The York College Music Club is open to all York College students regardless of their major.  The YCMC meets regularly during club hours, and hosts a showcase of student talent every semester.